Rudisill Accepts Lenssen Prize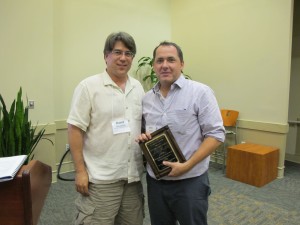 JOHN RUDISILL accepting the 2012 Lenssen Prize for the best paper regarding the teaching of philosophy from AAPT Vice President and Lenssen Prize committee chair, David Concepción.
Rudisill's winning article is: "The Transition from Studying Philosophy to Doing Philosophy," Teaching Philosophy 34:3 (2011): 241-271.
AAPT members have access to Teaching Philosophy and can see the winning article here (you may be prompted to log in to the Philosophy Documentation Center's site).
More information about the Lenssen Prize and previous recipients, see the AAPT-Awards page.